Features
Migrating From Nokia Symbian to an Android Mobile Phone
03 Jan 2012
If you owned a high-end Nokia mobile phone, for the better part of 2011/2010, you might have given Android OS based mobile phones a pass. Waiting to upgrade your phone until there is a sufficiently good reason and feature jump to upgrade to, is a perfectly good strategy.

An example on the Nokia side of what would have been completely sufficient (and actually is still better than a lot of budget Android phones out there):
Symbian OS s60v5, touch-screen, large display, 640x360 resolution, 128 MB RAM, micro-SDHC slot, 3.2 megapixel rear camera with autofocus and flash, front camera for video calls, support for 3G+WiFi+GPS.

Now in 2012, you finally find reasonably-priced Android phones that aren't just small hardware variations on the above, and give enough of a jump in features to make a migration worth it. But when you move from Nokia Symbian to an Android-based phone, there are some bumps along the way. Read on if you intend to make the move, or have already moved and are getting that "something-somewhere-is-missing" feeling of disappointment after having moved.

Backup and prepare your data
Step 1: Contacts
This has to be the element of maximum importance for most people. Storing contact phone numbers on a SIM card only gets you so far, so you started storing contacts on phone memory, right? Besides, doing so allowed you to enter multiple phone numbers, notes, e-mail addresses, birthday, and whatever else you wanted to remember about the person.

The best way to migrate Contacts information, might be to use Nokia PC Suite to sync your Contacts up with (a clean account of) MS Outlook. Afterwards, you can simply "Export" the contacts from Outlook into a CSV file. Read on, we'll also tell you what to do with this file.

Caution: Using Nokia PC Suite itself to export the contact list, whether in PST or CSV form, did not retain more than one phone number per contact when I tried it.

Step 2: Messages
This is an element that you should simply archive elsewhere (on your PC or new phone) and close out on it, as taking it onwards to your new phone may not be enough reward for the effort. Pushing messages out to Nokia PC Suite or backing up using it is cold comfort - that will leave your texts/SMS locked in a proprietary file format.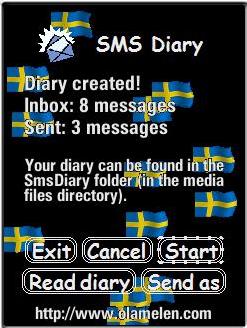 I found that Ola Melen SMS diary (pictured above) was able to export all my messages (Inbox and Sent) to an easy to read and compact HTML file format. Optionally, use the trial version of Oxygen Phone Manager II for Symbian OS phones to copy SMS/contacts/phone logs/files data across and retain it on PC - the registered version allows for exporting to excel format.

Step 3: Data
Be absolutely sure that everything that could be useful on your phone memory and the memory card, is copied/moved across. Comb through every folder and file to see if there's anything of importance to you using both, a file manager like Y-Browser on the phone, and Windows Explorer while connected to PC over USB.

Try to leave most files on PC/laptop, and push only necessary files onwards to your new phone. Photos taken with the phone camera, and Music that you had kept on the memory card, could be taken across to the new phone, but also keep a copy as-is on the PC. This is because the memory card on Android phones can end up corrupted when you least expect it, thus killing cherished photos and more!

You may find it useful to note down the names of the applications you installed on the Nokia Symbian phone, and store it with the rest of the data from the phone, on your PC. Phone settings can only be backed up using Nokia PC Suite and cannot be applied to a non-Nokia phone, so you'll have to bid that part goodbye.

At the end, if you'll give the phone to someone else or sell it, you might want to format the memory card and "Hard reset" the Nokia Symbian smartphone. The method to do a hard reset (or "3-finger salute") varies across Nokia models (Google for your phone model), but the purpose remains the same. This will wipe out your data and return it to how it was when you had newly bought the phone from the store.
AMOLED, IPS, PenTile, TFT... is the al..
Windows 8 will introduce a slew of int..
Facebook is rolling out Timeline to al..
All Features